"He was terrified of something, so terrified it took a huge effort on Wraith's part to get anything from the poor Matoran at all."
— Snelly
Kopeke



Species:

Ko-Matoran

Element:

Ice (Innate)

Kanohi Mask:

Sand blue Komau (powerless)

Alignment:

Good

Weapons/Tools:

Heatstone

Occupation:

Status:

Deceased

Creator:

LEGO
Kopeke was a Ko-Matoran and member of the Chronicler's Company. He was assassinated due to the information he held about the Second Prophecy.
Wraith and Snelly try to find Kopeke to ask about Takua's disappearance, only to scare the Matoran by accident.[1]
Kopeke reveals his clue.[2]
Kopeke is taken to be protected along with Macku.
Kopeke is nevertheless killed.
Personality and Traits
Edit
Whereas most Ko-Matoran are antisocial, Kopeke was just shy. However, other Matoran typically regarded him as aloof due to his silent nature. Kopeke was also well known in his village as an accomplished Ice Carver, able to shape delicate and detailed sculptures in relatively short amounts of time.
Kopeke had resistance to cold, a trait he shared with other Ko-Matoran. .
Relationships
Edit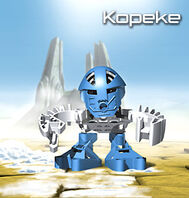 "No... I... please... leave me in peace... only those at... at peace can stay here... don't hurt me..."
— Kopeke relaying his clue
Reference posts
Edit
Ad blocker interference detected!
Wikia is a free-to-use site that makes money from advertising. We have a modified experience for viewers using ad blockers

Wikia is not accessible if you've made further modifications. Remove the custom ad blocker rule(s) and the page will load as expected.