Kotu



Species:

Ga-Matoran

Element:

Water (Innate)

Kanohi Mask:

Blue Rau (powerless)

Alignment:

Good

Weapons/Tools:

Unknown

Occupation:

Captain of the Marines

Status:

Alive

Creator:

LEGO
Kotu is a Ga-Matoran and the Captain of the Ga-Koro Marines.
Personality and Traits
Edit
Kotu is considered by most to have a sharp mind and a quick, witty sense of humor. Kotu is also a skilled Kolhii player. Her skills at practical jokes are unequaled amongst Ga-Matoran, and almost everyone has fallen victim to one of her pranks.
Kotu can hold her breath longer and is a better swimmer than Matoran of other elemental affiliations.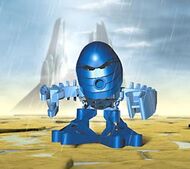 Relationships
Edit
Ad blocker interference detected!
Wikia is a free-to-use site that makes money from advertising. We have a modified experience for viewers using ad blockers

Wikia is not accessible if you've made further modifications. Remove the custom ad blocker rule(s) and the page will load as expected.