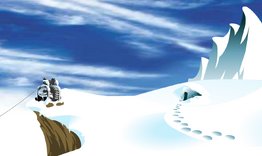 The Obsidian Outpost is the Cable Car station on the Ko-Wahi side of the Tren Krom Break, in the North March. It is currently under the control of The Outsiders, who keep it running in exchange for a toll per usage.
In addition, Obsidian also serves The Outsiders' main base of operations. Extensive underground sections house the operatives, and an arena has been added above ground to stage training battles and the like.
Description
Edit
The outpost's main entrance opens up into a fair-sized courtyard. The cable car station lays directly across from the entrance, and has a slanted roof that comes to a point in the middle and extends outward away from the cliffside and the outpost. A large opening on either side leads onto the station platform/loading dock. The toll booth sits right on the edge of the courtyard before the station.
To the left of the courtyard is the building's left wing and sentry tower. The lower level of this area consists of a bar and mess hall, as well as a small kitchen area. From the mess hall, a wide spiral staircase leads up into the sentry tower, which is situated directly above the left wing. The tower itself is rather wide, and octagonal in shape, with a domed roof and arched openings on all sides.
The right wing is consisted of mostly living quarters. Forger's smithy is located on the exterior of this side of the building(?). Loose equipment and various items are kept in a storage shed, which is also located in this area.
Since The Outsiders moved in, a series of underground additions have been made to assist their needs and keep their secrets hidden. The largest cavern, dubbed 'The Chamber', is occupied by a huge, polished stone table that takes up the length of the room. Lightstones line the walls, and create a very calm and meditative environment. The organization's insignia is inscribed on the far wall, followed by their creed. This is where the group holds their meetings. Beneath the right wing of the outpost lies the dungeon, which houses occasional prisoners.
The arena is situated a little ways down the mountain slope. A few flag posts line the perimeter, with red banners that help guide the way of those who get caught in sudden snowstorms.
The base has the name "Obsidian Outpost" because it was originally located in Ta-Wahi, at the cable car station near the volcanic Tren Krom Break. It has since been retconned and relocated to the Ko-Wahi side of the cable car.
Ad blocker interference detected!
Wikia is a free-to-use site that makes money from advertising. We have a modified experience for viewers using ad blockers

Wikia is not accessible if you've made further modifications. Remove the custom ad blocker rule(s) and the page will load as expected.