Oreius, Toa Maru of Fire, is the spiritual successor to Toa Tahu, and one of six Toa destined to defeat the Makuta.
Oreius



Species

Toa

Element

Fire

Kanohi

Auporo, the Mask of Weaknesses.

Alignment

Mata Nui

Weapons/Tools

Twin short swords. Tahu Mata's flame sword.

Powers

Elemental control of fire.

Occupation

Toa-Protector of Ta-Koro.

Group

Creator

Eyru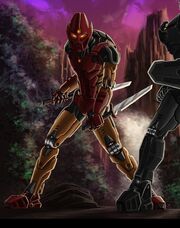 Ad blocker interference detected!
Wikia is a free-to-use site that makes money from advertising. We have a modified experience for viewers using ad blockers

Wikia is not accessible if you've made further modifications. Remove the custom ad blocker rule(s) and the page will load as expected.